Mid-Autumn Festival Titles Recommendation
The upcoming 10th of September is The Mid-Autumn Festival, one of the most important traditional festivals in China also known as the Moon Festival or Mooncake Festival. This is a great opportunity to share this fabulous Chinese festival with children.
1. Happy Mid-Autumn Festival, Elena! (伊伊,中秋节快乐!)9781845700430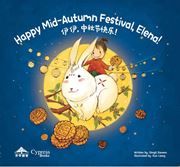 Elena is celebrating the Mid-Autumn Festival with her family and her friends. What is the Mid-Autumn festival? How is it celebrated? Elena discusses it on the phone with the bunny on the moon. Is the bunny real?
This book is bilingual and suitable for children of all ages. From the perspective of Elena, the content of the story introduces the taste and practice of moon cakes, the origin of the story of Chang'e, and the practice of lanterns. The story ends with references to how the Mid-Autumn Festival is celebrated in Japan, Korea, and Vietnam.
This book is also very suitable for teachers to use in teaching. At the same time, for some DIY activities in the book, teachers can also bring students to make lanterns and moon cakes together.
2. The Mid-Autumn Festival - The Moon Goddess Chang'e - The Chinese Library Series(中秋节之嫦娥奔月 - 中文小书架系列)9787561936085
The Mid-Autumn Festival: The Moon Goddess Chang'e is a pre-intermediate (900 words) Chinese reader about the Mid-Autumn Festival, telling the story of "Chang'e Flying to the Moon", a story related to the origin of the festival. The story is told using concise language and fantastic illustrations.
3. Happy Mid-Autumn Festival(中秋节快乐) 9781911221326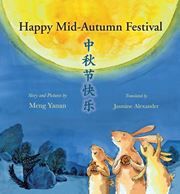 Mother Bunny prepares a special family dinner for Mid-Autumn Festival.
She sets out early in the morning and meets lots of friends along the way: Mother Hedgehog, Mother Squirrel, Little Bee, Uncle Beaver, Mother Duck, and her ducklings.
Little does she know that Mr. Wild Wolf is sneaking after her…
4. Chang'e Flying to the Moon(嫦娥奔月) 9787800516849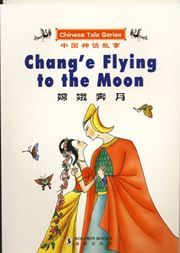 A Chinese fairy tale about Houyi who was praised by the people for getting rid of the nine-headed evil. Fengmeng was so jealous he planned to kill Houyi. He started by flattering Houyi. Then he talked him into going to the mountain for an elixir, hoping that Houyi would fall from the cliff and die. To his dismay, Houyi came back alive with the elixir. Fengmeng came up with another ruse. He falsely accused Chang'e, Houyi's wife, of adultery, which Houyi accepted as the truth.
As Chang'e could no longer suffer the ill-treatment of Houyi she took the elixir and became immortal and flew off to the Moon Palace.